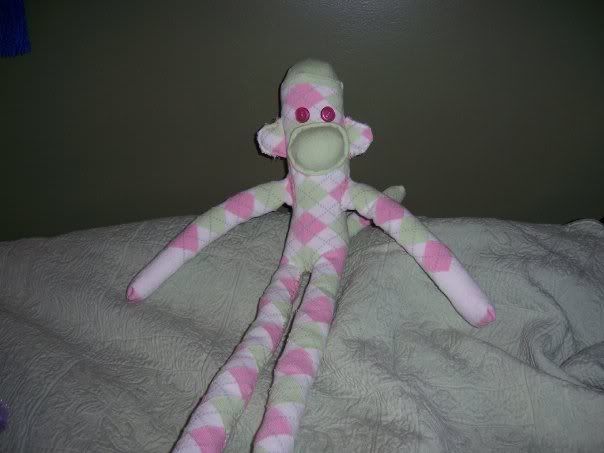 Name: Miranda
Date of Birth: May 2008
Owner: Myself
Eyes: Pink
Thread: Light Pink
Favorite Outfits: Often is wearing her BF Ferdinand's fleece scarf and hat. Someday, she will have clothes of her own!
Story: After returning home from school in 2008, I decided to try my hand at making a sock monkey without the aid of a course. Have felt from Ferdinand that he was in the market for a life time companion, I purchaced some matching pink argyle, so they would look all purdy together. Having just completed a course on Shakespeare, I decided that the obvious partner for a Ferdinand was a Miranda (from The Tempest).

(
More Pictures
Collapse
)
Current Mood:

blank

Current Music:

Cetlic Musac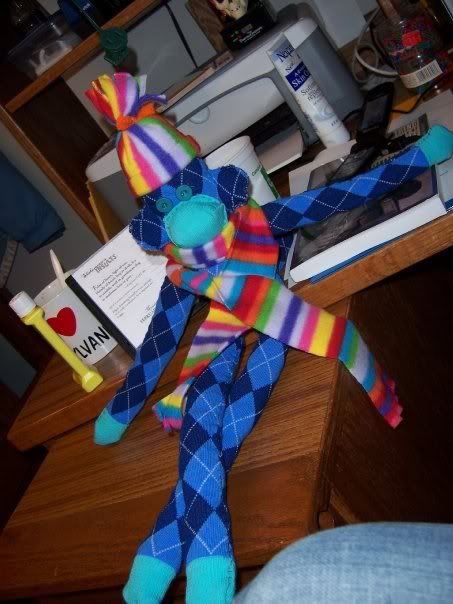 Name:
Ferdinand
Date of Birth:
February 2008
Owner:
Myself
Eyes:
Teal Buttons
Favorite Outfits:
Lately has been found wearing a top hat on a regular basis.
Story:
In spring semester 2008 I had just returned from a semester studying abroad in Ireland. After having a rough semester (not the fault of Ireland, however), I decided that I wished to take advantage of the opportunities that my university gave me. At Iowa State, there is an art studio known as the
Workspace
. Each of my roommates decided to take a class: one, on jewelry making, one, on basket weaving. As for myself, it was the one on sock monkeys that appealed to my sense of randomness and fun, though before I had never really cared much for the sock simians. The class itself was much fun, and birthed my sock monkey prime, Ferdinand. From this class, I learned the joy of making sock monkeys from socks not of the typical red-heel monkeys.
(
More Pictures
Collapse
)
Current Mood:

hungry

Current Music:

NCIS
Welcome to Drti Monkeys! The home of monkeys large and small of the Sock variety. I am
adelsial
, the creator of the Drti Monkeys. This blog with document their creations, lives, and homes.
BACKGROUND:
The monkeys came into fruition in the spring of 2008. On a whim, I took a class on making sock monkeys, and after that I was lost. Christmas of 2008 I began to make them as Christmas presants, and the clan of the Drti Monkeys grew.
THE MONKEYS:
Monkeys in this blog will be either from my own personal collection, those made as gifts, and those made for barter or sale. I am currently not taking commissions save from close friends. Homeless monkeys may be put up for sale on this site or sales linked to on this site in the future, but not at the present time.
Current Mood:

cheerful

Current Music:

NCIS